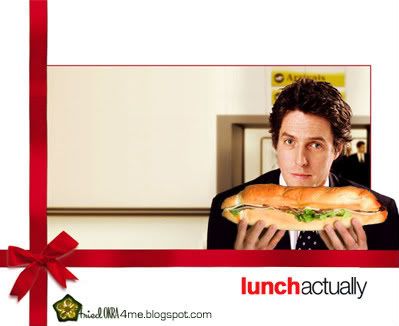 Ooh la la!  Today, we celebrate the sandwich, the delightful invention that finds its way into lunch pales around the U.S. every day, all the way from the miniature kindergartner to the grown man who works 9-5, such as my dear husband who never tires of PB&J!  Bless her heart, Megan at Fried Okra must've known my love for spiciness and made the definition of sandwich to "include anything made with a bread-like substance and a filler, like tacos, burritos, quesadillas, burgers, dogs/sausages, barbecue sandwiches or what-have-you."  And you know I got those kinda recipes up my sleeves, now don't ya!?  So, here ya go!
Peanut Butter-Plus Sandwich
Courtesy of Cooking Light, July 2006.  First recommended as a great post-exercise snack, I came to love this sandwich for a great lunch option as well.  The raisins are what make it for me, but I love the mixture of peanut butter, banana, raisins and honey all mixed together!  Kids would probably love it, too!  Cooking Light also recommended using the mixture as a dip for apple wedges or strawberries.
3 TBSP creamy peanut butter
2 TBSP honey
1 cup mashed banana (about 1 large)
3 TBSP raisins
1 TBSP roasted salted sunflower seed kernels
8 (1-ounce) slices whole wheat bread
Combine peanut butter and honey in a small microwave-safe bowl. Microwave at high for 20 seconds. Stir in banana, raisins, and sunflower seeds. Spread about 1/4 cup peanut butter mixture on each of 4 bread slices. Top with remaining bread slices.
Ham & Cheese Toasted Sandwich

Courtesy of Cooking Light, May 2006.  There are ham and cheese sandwiches and then there are ham and cheese sandwiches!  This is the latter, and one of my favorites.  Every now and then you just crave a good ol' fashion ham and cheese sandwich, but I much prefer this edition to give it a little pizazz.
 
1 cup (2 ounces) tub light cream cheese
1 TBSP chopped fresh basil
1 tsp. Dijon mustard
1/4 tsp. freshly ground black pepper
8 (1-ounce) slices whole wheat bread
4 ounces low-fat deli ham
8 (1/4-inch-thick) slices tomato (about 1 large)
1/4 cup (2 ounces) shredded reduced-fat sharp cheddar cheese
Preheat broiler.  Combine first 4 ingredients in small bowl; stir well.  Spread about 1 tablespoon cream cheese mixture over each of 4 bread slices. Top each with 1 ounce ham, 2 tomato slices, and 1 tablespoon cheddar cheese. Place sandwich halves and remaining 4 slices bread on a baking sheet. Broil 2 minutes or until cheese is melted and bread is lightly browned. Top each sandwich half with remaining bread slice. Serve immediately.
Mackie & Maiden's Special Sandwich
The summer after I graduated from college, my brother, Mac, and I lived together...what a special summer it was!  We both share a love of Hatch green chiles and spice, and we happened to create the bestest sandwich ever!  We feasted on it regularly that summer, so not only is it a tasty creation, but it's also a sentimental sandwich with love at each bite I take.  Because we made it up, I don't have the exact measurements for a recipe, so you'll have to give or take a bit of what you want.  We loved eating the sandwich with jalapeno flavored potato chips!
whole wheat bread
deli turkey, preferable cajun seasoned
slices of Havarti cheese
several tablespoons of red bell pepper hummus
roasted Hatch green chiles (you may use canned chiles, but if you live in the southwest or have access to fresh green chiles, they are preferred)
For each sandwich:
Preheat broiler.  Take two slices of whole wheat bread and slather red bell pepper hummus over each bread slice.  Top one slice of bread with 3-4 slices of cajun flavored turkey, a couple of Hatch green chiles (or a couple of tablespoons if using chopped, canned green chiles), and one slice of Havarti cheese.  Place sandwich halves (including the slices of bread with just the hummus) on a baking sheet.  Broil 2 minutes or until cheese is melted and bread is lightly browned.  Top the sandwich half with the remaining bread slice with hummus.  Serve immediately.
Chicken Chimichangas
Courtesy of the Junior League of Pheonix's
Desert Treasures
cookbook.  Matt and I love this recipe; it's both one of our favorites and great to make for guests.  You can brown the tortillas in oil as the recipe calls for, which would make it a true chimichanga, but I don't do that.  I just use the tortilla and make it more like a burrito, warming the burritos as the last part of the instructions indicate, which make the filling warm and also gives the tortillas a bit of a crunch.
6 cooked chicken breast halves, boned, skinned and cubed (I season the chicken with garlic powder, salt, pepper, cumin, and red chili powder)
2 cups Cheddar cheese, grated
2 cups Monterey Jack cheese, grated
1 cup diced green onion
1 can (4 oz.) diced green chiles
1 cup sour cream
12 (12") flour tortillas
oil to brown
1 can (15 oz.) black beans, rinsed and drained *this is my addition*
Mix chicken, cheeses, onion, chiles, and sour cream (and black beans).  It is easiest to do this with your hands.  Put 2/3 cup of the mixture in the center of each tortilla and roll up.  Cook the rolled tortillas, seam side down first, in 1/2-1 inch of hot oil until tortillas are well browned on all sides (or you can skip the browning).  If you skip the browning, line the burritos in a 9x13 inch greased baking pan and bake at 350 degrees for 30 minutes or until filling in burritos is warm. 
Serve with hot salsa, sour cream, and guacamole. 
Tortilla Pinwheels
Courtesy of the Junior League of El Paso's
Seasoned with Sun
cookbook.  This makes for either a great picnic lunch or some scrumptious appetizers...and they're easy to throw together for a potluck as well!
1 8-oz. package cream cheese, softened
1 7-oz. can chopped green chiles, drained
1 4-oz. can chopped ripe olives
2 2.5-oz. packages thin slicked chicken (luncheon meat)...you can also make this with turkey or ham
4-6 dashes hot pepper sauce
1/2 tsp. garlic powder
8-10 flour tortillas
To cream cheese, add green chiles, ripe olives, hot pepper sauce and garlic.  Mix well.  Spread mixture on flour tortilla.  Cover tortilla with approximately 3 slices chicken.  Roll up tightly.  Wrap in plastic wrap and chill in refrigerator at least 2 hours.  When ready to serve, remove plastic wrap and slice in 1-inch pieces.  Serve right from fridge or at room temperature. 
Enjoy, Internet peeps!  Hip hip hooray for sandwiches!  Let me know if you have a super sandwich recipe (or burrito, quesadilla, etc...) and I can post it, and be sure to check out
Fried Okra
for great 'wiches as well!